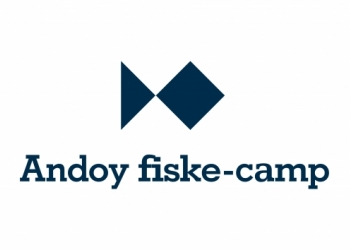 UNFORGETTABLE SEA FISHING!
The fishing camp is located in the picturesque valley of Skarsteindalen, in between mountains, 12 km from the
town centre of Andenes (where there are shops, restaurants, petrol station, an airport, etc.). Four kilometres from the camp is the little harbour of Skarstein, from which we set off to go fishing. It can be reached by car, but for those who do not have cars, we will take you to and from the harbour for no charge.
Fishing can take place in the fjord or in the open sea, which is 7 km away. The fishing camp can take up to 37 guests. There are 5 apartments, each of which holds 6–8 people. In each apartment there are 2–3 bedrooms, a toilet, wash basins, a shower and a fully equipped kitchen with all the appliances and kitchenware. There is a dining room with TV (international, Lithuanian, Russian, sport and other channels). A free wireless Internet connection is available in all rooms. At the camp and harbour there is a fish processing facility, a 24 m³ freezer (to -25° C.), a drying room for clothes, a laundromat, changing rooms and a storage area for fishing gear. Information is supplied daily about the tides and the weather forecast.
ANDØY FISHING CAMP
Skarsteindalen, 8480
Andenes, Norway
Booking:
+ 47 948 29 996
+ 370 659 39 699
info@andoyfiskecamp.eu
www.andoyfiskecamp.eu
We take you fishing in a safe,
comfortable and well-equipped
power boat. These 5.7 metre
Atlantic Explorer launches are
specially adapted for the needs of
fishermen in the Norwegian market,
i.e. coastal fishing in the Atlantic
Ocean. They are equipped with
90AJ Suzuki petrol engines,
navigational equipment and
sonar to find the best
fishing spots.